Just about everyone gets a little excited about the Super Bowl. Even the people who aren't football fans probably look forward to the halftime show or the creative and entertaining commercials. They're more interested in the side show than the final score or the MVP.
If this year's commercials are any indication, there's already a winner for this year's Super Bowl MVP: Dad.
This year there are three commercials that will probably touch everybody, man, woman, or child. That's because they're about dads, and the fact is that either you are a dad, have a dad, or have a dad-hole you're looking to fill. The commercials for Toyota, Nissan and Dove pluck all those heart strings.
Dove Men + Care: "Real Strength
This commercial's been out on the web for a while (it went viral last Father's Day with 12 million views), but the exposure it will get during the Super Bowl will likely make it a commercial that everybody remembers.
It's simply a succession of two dozen clips of kids and young adults in everyday life. A swimming pool, a high chair, a wedding. No one says more than one word, but that one word is powerful. Dada. Daddy. Dad.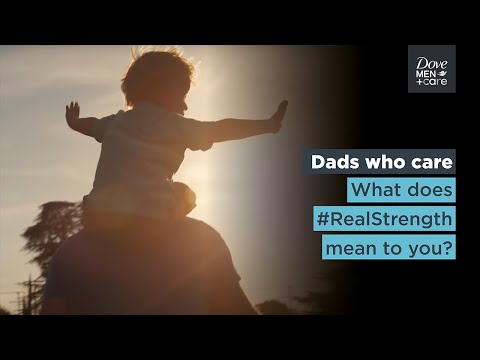 The commercial's text asks a simple question and offers a simple but profound answer:
What makes a man stronger?
Showing that he cares.
Dove's reminder is that a dad's strength is his involvement in the lives of his children, from their earliest years to the time they start their own families.
The commercial concludes by inviting dads to share how caring makes them stronger at #RealStrength
Nissan: "With Dad"
Like Dove, Nissan has already been around the internet with its "With Dad" campaign, but they're keeping their Super Bowl commercial under wraps until the big game. Over the past several months, Nissan has repeated the mantra, "Everything's better with dad." It's a campaign by Nissan's chief marketing officer Fred Diaz, acknowledging something that every parent in America knows: it's hard to strike a good balance between work and family, but it's important to do it.
You probably remember Diaz's contribution to the 2013 Super Bowl, with his tribute to farmers, with audio narration from Paul Harvey. If that's any indication of the quality and impact we can expect, the commercial's sure to be one of the viewer favorites this year. Until then, all we have to go on is this 10-second teaser.
As for the football connection, you can check out a series of features Nissan did on the NFL Matthews family by searching #withdad on YouTube.
Toyota Camry: "To Be a Dad"
This commercial focuses on the reality of fatherhood, featuring real life stories from dads and their kids. Some are NFL players. Others are just regular Joes. The commercial begins with a simple question:
Is being a good dad something you learn, or a choice you make?
More than a feel-good piece about, say, ginormous horses and fluffy puppies, "To Be a Dad" focuses on how "one bold choice leads to another." Whether they had a good father or not, these men share about how they are trying to be that good dad, and you can see how they are passing that legacy down to their own children.
At the end of the piece, viewers are invited to become participants by tweeting about their own father. The piece ends with this message:
Honor your dad.
Tweet us photos of him using #OneBoldChoice
to join our big game celebration.
Check out the extended length commercial here.
As you can see, the commercial is inspiring in many ways.
We see men we respect on the field being men we can respect in real life.
We see men who started life with a void who are now determined not to let their children know that feeling.
We see children talk about how their dads inspire them.
We see dads who are humbled and gratified at the impact they're having on their kids.
We also see some of the damage that's in the process of being healed. Damage caused to grown men when they were little boys by fathers who weren't present or who were emotionally detached. These men feel like they don't have a template to follow and are left to make it up as they go, essentially trying to become everything they didn't have as they were growing up.
Thankfully, we all have a Heavenly Father whose deep desire is to know us and have us experience all His best for our lives. And thankfully, He's given us an instruction book that teaches us how to father, not out of our woundedness, but out of His wisdom and love.
My hope is that these commercials will raise the conversation around fatherhood. Hopefully it will spark stronger connection between dads and their kids, and will bring together those men who grew up without dads and those who were far more blessed, all around the conversation about what it means To Be a Dad.