Truett Cathy is the father of the chicken sandwich and a man who set the bar for other fast food empires. On Monday, September 8, he left this world, and the restaurant kingdom he built, to go home to a better kingdom and be with his Heavenly Father.
Cathy invested his life in others. Nowhere is that more evident than through the testimony of his sons, Dan and Bubba, who carried on his values at home and in the corporation they manage.
Watch this segment from the Stepping Up video series. It was created to be a representation of what it means to be a patriarch. With Truett Cathy's passing, it is a testimony to a life well-lived.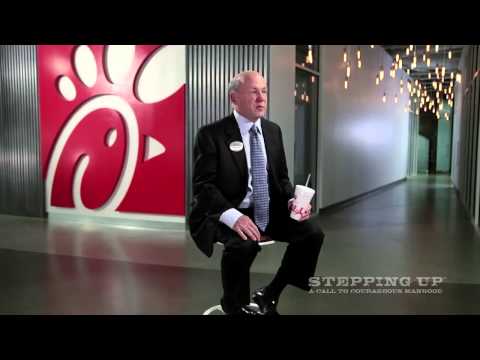 Truett Cathy was a patriarch. Not just of the chicken sandwich or Chick-fil-A, but in the more traditional sense of the word—in the best sense. He was married to Jeanette for 65 years. He passed on his business and family legacy to his two sons and one daughter. He taught adolescent boys' Sunday School for 50 years because he knew the importance of older men investing in the lives of younger men.
Listen to a special broadcast of FamilyLife Today, "Truett Cathy: A Life Well-Lived," which features an interview that Dennis Rainey and Bob Lepine did several years ago with this patriarch.
© 2014 by FamilyLife. All rights reserved.
You just read the post, "Truett Cathy: Patriarch of more than the chicken sandwich" on the Stepping Up blog.
What kind of legacy was left to you? What kind of legacy will you pass on to your children and to this world?

Dennis Rainey wrote an article "Remembering Truett Cathy" which includes his personal reflections.
If you appreciate the legacy of Truett Cathy, share the blog post, video, or broadcast with a friend.