In creating the Stepping Up men's video series, FamilyLife interviewed men in the New Orleans French Quarter, asking the following question:
"What makes a leader?"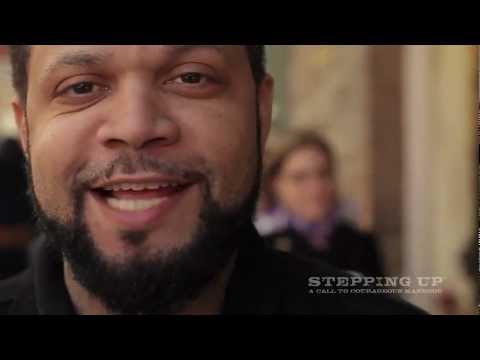 Some of the guys in the video were on target with their answers, others were a bit off. Below, we've pulled some quotes, not from just any guy on the street, but from some men who have been intentional about their leadership.
. . .
"If you look in Ephesians, Chapter 5, and you look at the list of qualifications, really, for a husband — you look at this picture of what it means to be a Christ-like leader — basically, to lead a wife as Christ leads the church. You find that the picture is not just about a guy who pounds his chest and says, 'Me man; you woman — me speak; you do.' He's to lead in love. He's to lead in the Word. He's to lead in righteousness. He's to lead in selflessness, and he is to lead in intimacy.
"Most guys don't understand servant-leadership from that perspective. So, it's very important that when we talk about the way a husband is supposed to lead, we don't just take the culture's definition of leadership and superimpose that on the Scriptures. We have to get into the Word of God to determine what biblical leadership in the home looks like; and then look for an individual who understands that, as opposed to just the cultural norm."
– Voddie Baucham, from "Discovering Biblical Leadership,"  FamilyLife Today® radio broadcast
"The statue is of William Leftwich. It is a statue of a man, with one arm pointed to his left — his rifle is in that arm — his body is clearly running in the direction of his outstretched rifle. His right arm is crooked; and it is beckoning those who, although unseen, are behind him. His head is pointed back at them. You can tell he's yelling something. Below that statue, it says simply, 'Follow me!'
"And that, I think, is a phenomenal picture of leadership. It is: 'If you want to know where to go, watch me. Follow me because I will be doing what I ask you to do, and I will be leading the way toward a mission that is worthy of being accomplished.' This man, ultimately, died in Viet Nam because he went on every rescue mission for the Reconnaissance Marines that he sent out. One day, on the rescue mission of the men he commanded, his helicopter was shot down and he died. He was doing exactly what he asked his men to do. When he said, "'Follow me!' they listened."
– Donovan Campbell, author of The Leader's Code, from "Characteristics of a Leader," FamilyLife Today radio broadcast
"Two words — serve and lead — may seem like a contradiction, but they are inseparable according to Scripture. While the Apostle Paul tells us in Ephesians 5:23 that 'the husband is the head of the wife,' he quickly puts to rest any notions that this leadership allows any form of selfish male dominance. He completes the sentence with 'as Christ also is the head of the church.' Then the passage goes on to say that husbands should love their wives 'just as Christ also loved the church and gave Himself up for her' (verse 25).
"This paints a picture of leadership that is contrary to how the world views it. A man is called to be a servant-leader — to take responsibility for his wife and children and to put their needs ahead of his own. He is called to demonstrate selfless, sacrificial love — the type of love we see in God toward his children."
– Dennis Rainey, "5 Ways Men Need to Step Up"