The movie Unbroken, which opened on Christmas Day 2014, tells the story of a real-life World War II hero. In this post, we share a bit of his story and point to 10 other major motion pictures about real-life men who stepped up in the face of overwhelming pressure.
This may sound strange coming from a professional writer, but I'm not a big reader. My schedule's usually so busy and fragmented that it takes me forever to finish a book. That is, if I ever start one. A good year is when I actually finish five books.
Needless to say, I wasn't overly excited or hopeful when my manager here at FamilyLife recommended a book for me to read. But he hit me at a good time, when distractions were at a minimum. I was hoping he was right about it being a gripping story, because if it didn't grab me quickly, my schedule would.
He was right about Unbroken, by Laura Hillenbrand. And so are the millions of readers who have kept it on the New York Times bestseller list for four years. And I'm pretty sure that millions more will be picking up a copy after seeing the film adaptation of Unbroken when it premiers in theaters on Christmas Day.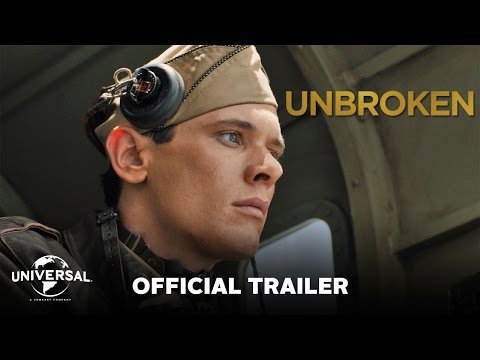 Unbroken is the true story of Louis Zamperini, who may be the most incredible man you've never really heard of. The story follows his life, starting as a problem child running from the police, eventually channeling his talent for running into a positive direction and making the 1936 Olympics. When the nation was plunged into World War II, he put his Olympic career aside to become a highly-regarded bombardier in the Army Air Corps, only to become a crash survivor, floating at sea for a record 47 days before being picked up by the Japanese. He spent the better part of the next three years in brutal prisoner-of-war camps, written off as dead by the nation that revered him as an athlete.
After his rescue at the end of the war, he re-entered civilian life as a bitter and psychologically tortured man bent on revenge, which nearly destroyed his family. That all changed in 1949 when he heard Billy Graham at a Los Angeles evangelistic crusade speak of forgiveness and redemption through Christ. For the next 65 years until his death this summer at age 97, his personal life of forgiveness inspired and challenged others.
Two people in particular were impressed by his story. One was Laura Hillebrand, who wrote Unbroken. The other was Angelina Jolie, who directed the motion picture — one that directors toyed with for 50 years but none had the courage to tackle the complicated story line.
We haven't had a chance to see the movie yet, but have paid close attention to the trailers, interviews, and news of the film — enough to be confident that it's a movie well worth watching (and a book well worth reading). We have heard that the faith elements aren't as strong as Christians would like, but thankfully the Billy Graham Association interviewed Louis before his death and had him tell the rest of the story … of how a bitter, broken man became unbroken through the life-changing power of Christ. The 30-minute video, Louis Zamperini: Captured by Grace, is available on DVD for a gift of any amount, and will be available to watch for free online beginning Christmas Day.
The film Unbroken is rated PG-13 for violence and some language, just to be forewarned. This may be a great outing for a father and older sons. Zamperini shows how talent combined with discipline and focus can defeat some of the most formidable foes, whether external or internal. Seeing other real-life men stepping up to face struggles in their lives, encourages boys and men both, and opens up opportunities for conversations about what it means to be a man.
To go along with the movie Unbroken, we came up with a list of 10 other movies for men. Over the past few months, we asked a number of people to recommend movies where men stepped up in the midst of difficulties and, in doing so, inspired others. Here are some of the films that consistently showed up on these men's lists. This is not an exhaustive list by any means. We don't even claim them to be the best biographical movies for men.  And some of them have objectionable elements that may make them inappropriate for your sons, or even for you. So we've included their MPAA ratings. For more information on the content in these films, follow the links to Pluggedin.com, Focus on the Family's film review site, which we find to be dependably thorough and balanced.
So here's our list of 10 real-man movies — films about real-life men who stepped up in adversity, and the films (in alphabetical order) that tell their stories.