"There is nothing new under the sun."
As we men strive to find meaning and purpose and to make meaningful connections in our fast-paced, consumer-driven, anything-goes culture, the words of Solomon ring truer now than ever.
"I have seen everything done under the sun. All of it is meaningless, a chasing after wind."
Three years ago Richard Ramsey and City On a Hill Studio set out to make a film that would speak to modern-day audiences through Solomon's lifelong quest for real love and true meaning. The writer and director wanted a theater-worthy film that believers and the unchurched alike would want to see and talk about.  As Ramsey says, it is a film for the restless man.
The script and directing are remarkably intentional, making use of biblical allusion, symbolism, parallels and imagery to bring the life and teachings of Solomon into today's realities. The story line follows Solomon's relentless search for meaning through wisdom, pleasure, and power, only to find that the elusive answers are not distant, but as close to home as the heart.
The Song, which debuts on September 26 in theaters across the country, uses narratives from the Song of Solomon, Ecclesiastes and Proverbs, masterfully woven into the tapestry of a modern-day story of love, marriage, and meaning. The movie follows the career of Jed King (played by relative newcomer Alan Powell), a struggling musician who's blessed and cursed to be the son of beloved country music star, David King (yes, the symbolism starts early in the film and poignantly shadows the plot throughout).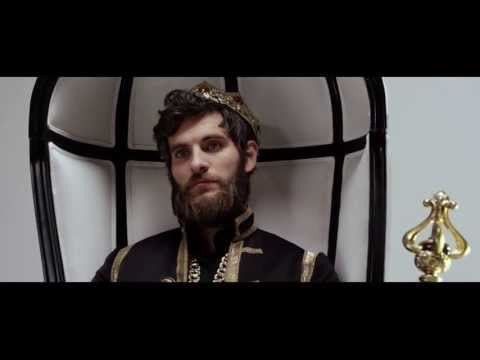 The first five minutes show the rise and fall, redemption and untimely death of his father in a gritty sequence that is foreign to many faith-based films.  While not graphic, the sequence (which parallels the failures of King David) lays the legacy for Jed King and offers a foreshadowing of difficulties to come as he follows in his father's footsteps.
Jed believes he's meant to be a singer, not just because of his father's legacy but also because it's a gift and mission given to him by God. Struggling to find a breakthrough after being cut from his record label, Jed takes a gig at a local hometown festival where he meets Rose (Ali Faulkner, another relative newcomer).
The two fall in love and marry (no, that's not a spoiler, because you know the Song of Solomon) and begin their George-and-Mary-Bailey wonderful life. But as with all marriages, the infatuation gives way to distance as the two are pushed away by the busyness of parenthood, extended family, career, and the ever-present search for self-fulfillment. As their emotional and physical distance grows, Jed becomes frustrated and begins searching for fulfillment outside the home in the most obvious place—his music career.
Solomon's woman of Proverbs 7-9 makes her appearance in the form of Jed's opening act, fiddle player Shelby Bale (played by Caitlin Nichol-Thomas in her movie debut). Shelby is there when Rose is not, and his heart is further pulled away from home.
Throughout the movie, the dialogue is punctuated by Jed's narration, directly from Ecclesiastes, Song of Solomon, and Proverbs. We follow the story through the bliss of Solomon and his love, and through the search for meaning and pleasure. Each promise of fulfillment ends up empty and takes Jed on his journey further and further from home and his first love.
The Song contains the most extensive use of Scripture of any film I've seen except for Jesus, which uses only Scripture. Yet it is far from preachy because it's Jed own words, narrating his own story of love, loss and futility, a story that ultimately finds redemption and purpose.
This movie will not be the "feel good" movie of the fall season. Ramsey, in his writing and directing, intentionally leads the viewer through the messiness of life and the soul-searching of Solomon. It is heavy and frequently dark, but it needs to be. The man watching this movie needs to feel the weight of foolish, short-sighted decisions.
As a film centered on music, the songs are significant elements in revealing the characters, their struggles, and values. Powell and Nichol-Thomas perform their own songs quite capably. In fact, Powell is a member of the Christian vocal group, Anthem Lights, and Nichol-Thomas is a professional fiddler. One song that won't be new to moviegoers is The Byrds' 1965 classic, "Turn! Turn! Turn!" This musical rendering of Ecclesiastes 3 is a favorite of Rose, and plays a prominent part later in the movie.
Although the film ends on a happier note, the heaviness remains with you through the final credits, which is appropriate. Choices have consequences, and foolish choices leave a heart-wrenching aftermath, particularly when it comes to the closest human relationship—marriage. The Song is a cautionary tale for couples. Between the pace of life, the lures of our culture, and the deceitfulness of the human heart, marriage relationships naturally grow apart unless you're intentionally moving toward oneness.
A selfish act, an unkind word, a bitterness unresolved have caustic results. But authentic love also carries the power of forgiveness and redemption. It is the very thing that has the power to draw someone from the depths of despair to a life that's truly meaningful.
In an unplanned, deeply personal message to a concert audience, Jed voices this realization:
"You know, when you're always under bright lights, you can't see the stars. You forget things. You forget that somebody put the stars there, and that they love you enough to die for you. And it's that kind of love that makes songs worth singing and life worth living. I had that kind of love and I threw it away. Because I am a fool. I'm sorry."
Jed was referring to Rose, but what he says applies equally to our relationship to a loving Father, who gave His Son on our behalf. The Apostle Paul (who may be Solomon's wise New Testament counterpart) reminds us that in the midst of our rebellion, it's God's kindness and patience that bring us to repentance (Romans 2:4). He also reminds us that when we're most unlovable, God's love reaches out to us (Romans 5:8), whether it's for salvation or forgiveness.
The marriage relationship is the optimal environment where we can show the undeserved, unconditional love of Christ. It's probably the hardest place as well. Who knows us better than our spouses? Who can put together the longest laundry list of offenses? On the other hand, who have we let closer to our hearts to see the beautiful and honorable, the vulnerable and needy? Besides God, who better knows the depth of our need for grace and companionship?
And that is the dual message of The Song. As Solomon draws his conclusions in Ecclesiastes:
Enjoy life with the wife whom you love, all the days of your vain life that he has given you under the sun, because that is your portion in life and in your toil at which you toil under the sun. (Ecclesiastes 9:9)
The end of the matter; all has been heard. Fear God and keep his commandments, for this is the whole duty of man. For God will bring every deed into judgment, with every secret thing, whether good or evil. (Ecclesiastes 12:13-14)
That's a message everyone needs to hear.
© 2014 by FamilyLife. All rights reserved.
You just finished reading "The Song: A film for the restless man," by Scott Williams in the Stepping Up men's blog. 

Men are prone to sexual temptation when things aren't great at home. Read "When men are tempted to cheat."
Learn the "3 Weeds You Need to Pull from Your Marriage Garden" to keep your marriage from drifting toward isolation.

Find a theater near you showing "The Song" and bring your wife, your friends, or the restless man.