You can't control everything that happens to you, but you can always control how you respond.
Some of life's toughest challenges present the opportunity to gain some of life's biggest victories. It's often a matter of mindset.
Consider the blitz. It's perhaps any defense's most effective weapon. But by putting all their effort in pressuring the quarterback, they leave open the receivers to the possibility of the offense making a great play.
That's the experience of Stepping Up's own Jeff Kemp. An 11-year veteran of the NFL, Jeff, as a quarterback, dreaded the blitz, but he welcomed the opportunity it provided to make the big play. As he's made that application to life, he has seen that some of the enemy's biggest efforts to discourage and defeat, reveal even bigger opportunities to trust God more and to see him bless in ways that are beyond anything we can ask or imagine.
Jeff has taken those years of experience on the football field and decades of experience in life and put them inside the covers of a book, Facing the Blitz: Three Strategies for Turning Trials into Triumphs, available Tuesday, March 24. Check out what Jeff has to say in this video, and in the introduction to his book.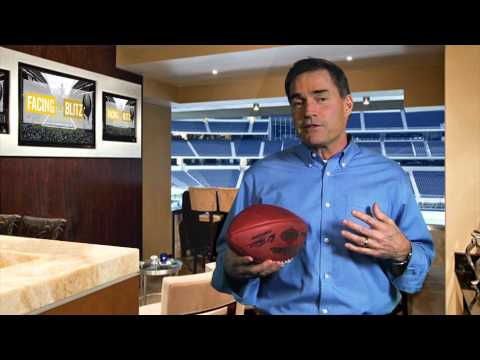 I wouldn't have guessed that my experience handling blitzes on and off the field would provide me with many of the most powerful lessons of my life. And I certainly didn't expect it to make the difference between a life of meaning and one of despair. But that's been my reality—and probably yours too. Isn't life, for all of us, about facing blitzes?
If you'll take a long-term perspective, if you're willing to change, and if you adopt an others-centered approach to everyday living, then life's problems, attacks, and trials will serve to grow you. They will grow your humility, your honesty, your relationships, your faith, and your joy. They will open up your eyes to the pain that others are feeling because of their blitzes and help you be a better team player and support person for them. These are all good things that can come out of your blitzes.
You'll learn that overcoming is not about bouncing back so much as bouncing UP. No matter how near or how far you are from your blitz, this is not a book about the past. It's about the present and future. This is a message about recovering, about coming back from, about transforming—and then getting better and going further than you ever dreamed possible.
But to do all that, you'll need the courage to embrace three simple principles—strategies, if you will—which are as easy to understand as they are difficult to follow:
Take a long-term view.
Be willing to change.
Reach out to others.
Before you dive into understanding and trying to employ the three strategies for facing, and beating, a blitz, you'll need to understand why some people are better at it than others, and why for other people these requirements don't make any sense. It all has to do with how we see ourselves, the world, and life in general. How well you master these strategies will depend on how you answer these questions:
Do you see life as an individual sport or a team sport?
Do you look at the world from the standpoint of a consumer or an investor?
What is your power source for living, loving, and overcoming trials?
Your answers to these questions will reveal your lenses.
© 2015 by FamilyLife. All rights reserved.
You just finished reading the post, "Facing the Blitz," on FamilyLife's blog for men, Stepping Up.

Randy Alcorn helps us sort through "How God Uses Suffering for His Glory" and for our ultimate good.

Visit the Facing the Blitz website to download a chapter excerpt from Jeff's book, or order a copy of the book for yourself.

Encourage other men who may be facing life's blitz by sharing a link to this blog post or the book's official website.