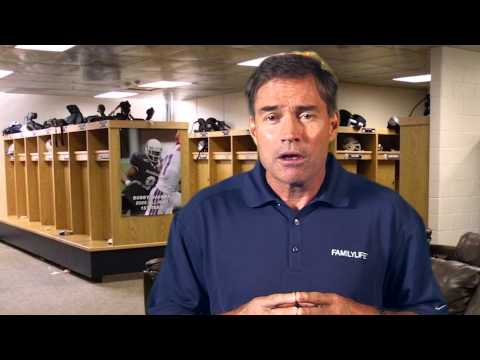 Hey dads. I want to honor you. And I want to encourage you to honor your father.  Imperfect, good or bad, we all need to honor our dads, and we all need to grow as fathers.
My dad, Jack Kemp, was a really good dad; he had some phenomenal traits. But he had some gaps, too. The good part of my dad was that he was a great hugger and kisser, he always told us he loved us. He wrote us notes all the time, he affirmed our identity. And he gave us great vision for life and was always encouraging us.
He wasn't so good—in fact he wasn't good at all—when it came to talking to me about the intimate things of sex and temptation. He wasn't that good at admitting his faults; he didn't really apologize well, particularly to my mom. And he didn't know how to do anything around the house, or at least he didn't help out much around the house. But, still, I honor my dad and I got so much from him.
And you know what? I have my strong and weak points as a father, too.
I'm good at some parts of fathering but not so good at remembering things. I'm not that good in some areas of listening, because I keep interrupting my kids too much. I'm intentional, but I'm overboard sometimes. But I always want to learn to be a better dad.
Get started. Honor dad. Be an honorable dad.
Honor your dad, and be the best dad you can be. For some of you that may be hard. Maybe you feel like you failed as a father, or maybe you had a father who failed you in so many ways.
Dads, I want to thank and encourage you. Don't beat yourself up over the past. Decide to do your best from this day forward. Try this game plan. First, realize that your imperfect dad probably did the best he could with what he had. Set yourself free and forgive Him.
Next, remember you have a perfect heavenly father, who's love for you is so radical and unconditional that He sacrificed His perfect Son to pay the death penalty that you and I deserve. Accept that love. Now, start the healing with your dad if he's alive. Ignore your dad's faults and initiate an apology to him. Don't expect any apology in return. Next, apologize to your kids for where you have fallen short or missed the mark as a their dad.
Maybe you haven't been present or been engaged. Maybe you haven't been transparent or honest with them. Maybe you haven't hugged and said "I love you" much.
Maybe you haven't given the boundaries and training and protection your sons or daughters needed. Tell them your faults. Tell them your love. Start to do your best, today. You are the best dad in the world to your child…from this day forward.
Here's my encouragement and my challenge: Be the best dad you can be; honor your own father and forgive him in any area where he wasn't perfect.  And let's keep growing as dads and make this thing about fatherhood not just a one-day celebration on the third Sunday in June, but a 365-day-a-year thing.
© 2015 by FamilyLife. All rights reserved.
You just finished reading "Honor Dad for what he is… not what he isn't" on the Stepping Up men's blog

"How Can You Honor Your Parents When You Feel They Don't Deserve It?" Read this article from FamilyLife.com

Hear how Freddie Scott II, another NFL son, chose to honor his father and become "The Dad I Wish I Had."

Get together with some guys, your teen or older son and go through Stepping Up, The Call to Courageous Manhood