Each week, Jeff Kemp releases a new video featuring a thought from his new book, Facing The Blitz. You can sign up to receive the weekly video, which also includes self-reflection questions and action points on how to apply the principles to your life. Here's this week's offering, "Worst Fan Letter," just to whet your appetite.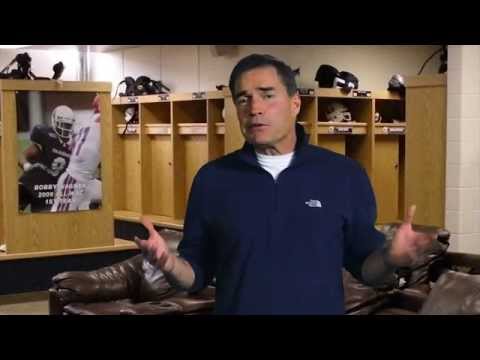 In 1986 I had been quarterbacking the San Francisco 49ers for the couple months that Joe Montana had been injured.  I then injured my hip and Joe made a miraculous mid-season recovery from back surgery.  When he was about to return to the line-up, I received this "fan letter."  Or so I thought.
"Dear Jeff,
I know that when Joe Montana comes back, you will probably feel like you were shoveled off to the side.  Don't worry.  You should feel lucky that you even got to play on Joe's team.  He's the greatest quarterback to ever play the game …"
The letter went on and on about how great Joe was. As I read along, I was surprised that the guy asked me for my autograph. It would have been more appropriate to the letter, had he asked me to get Joe's autograph and send it to him.
After asking me a few more questions about how amazing Joe is, the end of his letter cracked me up.
"P.S. You're not as bad as some people might say."
My lessons from this letter:
Laugh at yourself.  If you can't, you're taking yourself way too seriously.  That won't be good for you or those who live with you!
Don't compare yourself to others.  Don't try to imitate them.  Be yourself.  Be the best self you can be, but be you.
Don't play for the applause or the fans.  Play for the ultimate audience.  Live for the audience of ONE — Jesus.  God is the one audience we should aim to always please.  His perfection calls for the highest standards.  His love accepts us even when we fall miserably short.  His glory is deserved and appropriate.  Ours is short-lived and foolish.
"Don't think you are better than you really are. Be honest in your evaluation of yourselves, measuring yourselves by the faith God has given us" (Romans 12:3b NLT).
The reality is that most of us aren't first string or hall of fame; we feel like backups a lot of the time. But your value is determined by your character and your relationships, not your fame or your status.
Don't let the blitz of comparison beat you down. Look around and make it your goal to make others feel like first string. Lifting others up will help you feel like more than just a back-up player. Be the best you can be. And remember, you're the only dad or husband that somebody will ever know.
Quote:
"Reality must be faced. We are not what we do, whom we work for, or who the public sees us to be. We're persons with spirits, souls, personalities, emotions, stories, wounds, fears, virtues, strengths, and weaknesses. To understand these things about ourselves is to know ourselves. We become free to live at peace with others, to live with contentment, not dependent upon circumstances, and to handle the losses in life — including the loss of certain dreams."
—Facing the Blitz, Strategy #1: Take a Long-Term View
The Playbook:
"For we are God's masterpiece. He has created us anew in Christ Jesus, so we can do the good things he planned for us long ago" (Ephesians 2:10 NLT).
 Time-Out:
Do you measure yourself by what you accomplish and how people view you?
What's one way you would live differently if you didn't worry so much about what people thought of you?
Go Deep:
You can discover more on how to create a big vision out of broken dreams in chapter 3 of Facing the Blitz.