The movie Unbroken, which opened on Christmas Day 2014, tells the story of a real-life World War II hero. In this post, we share a bit of his story and point to 10 other major motion pictures about real-life men who stepped up in the face of overwhelming pressure.
This may sound strange coming from a professional writer, but I'm not a big reader. My schedule's usually so busy and fragmented that it takes me forever to finish a book. That is, if I ever start one. A good year is when I actually finish five books.
Needless to say, I wasn't overly excited or hopeful when my manager here at FamilyLife recommended a book for me to read. But he hit me at a good time, when distractions were at a minimum. I was hoping he was right about it being a gripping story, because if it didn't grab me quickly, my schedule would.
He was right about Unbroken, by Laura Hillenbrand. And so are the millions of readers who have kept it on the New York Times bestseller list for four years. And I'm pretty sure that millions more will be picking up a copy after seeing the film adaptation of Unbroken when it premiers in theaters on Christmas Day.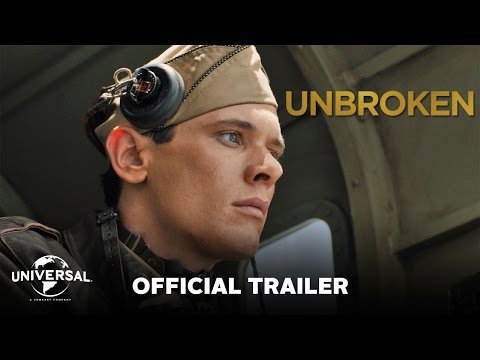 Unbroken is the true story of Louis Zamperini, who may be the most incredible man you've never really heard of. The story follows his life, starting as a problem child running from the police, eventually channeling his talent for running into a positive direction and making the 1936 Olympics. When the nation was plunged into World War II, he put his Olympic career aside to become a highly-regarded bombardier in the Army Air Corps, only to become a crash survivor, floating at sea for a record 47 days before being picked up by the Japanese. He spent the better part of the next three years in brutal prisoner-of-war camps, written off as dead by the nation that revered him as an athlete.
After his rescue at the end of the war, he re-entered civilian life as a bitter and psychologically tortured man bent on revenge, which nearly destroyed his family. That all changed in 1949 when he heard Billy Graham at a Los Angeles evangelistic crusade speak of forgiveness and redemption through Christ. For the next 65 years until his death this summer at age 97, his personal life of forgiveness inspired and challenged others.
Two people in particular were impressed by his story. One was Laura Hillebrand, who wrote Unbroken. The other was Angelina Jolie, who directed the motion picture — one that directors toyed with for 50 years but none had the courage to tackle the complicated story line.
We haven't had a chance to see the movie yet, but have paid close attention to the trailers, interviews, and news of the film — enough to be confident that it's a movie well worth watching (and a book well worth reading). We have heard that the faith elements aren't as strong as Christians would like, but thankfully the Billy Graham Association interviewed Louis before his death and had him tell the rest of the story … of how a bitter, broken man became unbroken through the life-changing power of Christ. The 30-minute video, Louis Zamperini: Captured by Grace, is available on DVD for a gift of any amount, and will be available to watch for free online beginning Christmas Day.
The film Unbroken is rated PG-13 for violence and some language, just to be forewarned. This may be a great outing for a father and older sons. Zamperini shows how talent combined with discipline and focus can defeat some of the most formidable foes, whether external or internal. Seeing other real-life men stepping up to face struggles in their lives, encourages boys and men both, and opens up opportunities for conversations about what it means to be a man.
To go along with the movie Unbroken, we came up with a list of 10 other movies for men. Over the past few months, we asked a number of people to recommend movies where men stepped up in the midst of difficulties and, in doing so, inspired others. Here are some of the films that consistently showed up on these men's lists. This is not an exhaustive list by any means. We don't even claim them to be the best biographical movies for men.  And some of them have objectionable elements that may make them inappropriate for your sons, or even for you. So we've included their MPAA ratings. For more information on the content in these films, follow the links to Pluggedin.com, Focus on the Family's film review site, which we find to be dependably thorough and balanced.
So here's our list of 10 real-man movies — films about real-life men who stepped up in adversity, and the films (in alphabetical order) that tell their stories.
1. 42
Jackie Robinson is one of Major League baseball's all-time greats, but his most admirable trait may have been his forbearance.  Despite his superior talent, he had to constantly prove his right to play at the highest level because of his race. And he had to endure the hatred and jeering of fans, opponents, and even teammates. This story is also about Robinson's manager, Branch Rickey, who stood against players, coaches, and even the league, in defending Robinson's rightful place on the diamond.
42, which is rated PG-13, has a good bit of salty language (especially the n-word), and drinking, as detailed in the Plugged In review.
2. Amazing Grace
After coming to Christ in his mid-20s, William Wilberforce becomes an impassioned opponent of the slave trade in England. Influenced by several key men — including John Newton, former slave trader who wrote the beloved hymn, Amazing Grace — he uses his position as a member of Parliament to propose anti-slavery legislation every year. Through 20 years of repeated defeats and constant ridicule, he perseveres and sees the passage of the Slave Trade Act of 1807. Wilberforce would become known as the father of the abolition movement.
Amazing Grace, rated PG, has a minimal amount of bad language, but does include scenes of brutality in slavery. Read the details in Plugged In.
 3. Braveheart
In the face of longstanding repression of the Scottish people at the hands of the cruel monarch, King Edward I, William Wallace steps up where the noblemen won't. He tells them, "You think the people of this country exist to provide you with position. I think your position exists to provide those people with freedom."  Even though he is martyred before they see freedom, one of those noblemen, Robert the Bruce, takes Wallace's challenge seriously and later secures freedom for his people.
Braveheart has an R rating and contains a lot of graphic violence, some profanity and brief nudity, all detailed on Plugged In.
4. Chariots of Fire
Another Scot, Eric Liddell, is a gifted athlete and committed Christian who "runs for God."  Liddell's two passions come into conflict with each other when his best event is scheduled for the Lord's Sabbath. He has to choose between running and standing by his convictions. Although not a part of the movie plot, Liddell eventually went to China as a missionary and gave his life on the mission field.
Chariots of Fire is rated PG and has only a few mild profanities and some social drinking. Here's the Plugged In brief.
5. Cinderella Man
James Braddock is a gifted boxer without a lot of passion in the ring, so he finds himself down on his luck and without a fight in the midst of the Great Depression. When he can get work, it's not enough to provide for his family. Just when things seem at their worst and he's faced with the breakup of his family, Braddock gets his big chance. His new motivation takes him up the list of opponents until he's fighting for the heavyweight title. His determination doesn't just inspire his family, but a whole nation fighting to survive.
Cinderella Man is rated PG-13 and contains realistic ring violence and a lot of salty language, most of it by Braddock's manager. Read Plugged In for more details.
6. Hotel Rwanda
Paul Rusesabagina is a hotel manager in the capital city of Kigali when militant members of the Hutu tribe begin killing rival Tutsis. Rusesabagina and his family take refuge in the luxury hotel, which he turns into a safe haven for more than 1200 Hutu and Tutsi refugees. Eventually, the Rusesabaginas and other families are able to escape the hotel and avoid being the victims of the 1994 genocide, which saw the deaths of a million people in just 100 days.
Hotel Rwanda is rated PG-13 and contains more than a smattering of salty language and some drinking. But the greater caution is the subject matter, which is quite disturbing and likely too disturbing for younger ages. Read the details on Plugged In.
7. A Man for All Seasons
Thomas More is a man of integrity who challenges an unbridled and haughty King Henry VIII. More, a man given to public service, is a natural liaison between the crown and the Catholic Church. But he is more committed to Christ and God's Word than anything else, and eventually chooses martyrdom over political expediency. This is another great movie about standing by conviction in the face of unwavering opposition.
The highly-acclaimed 1966 A Man for All Seasons is free from objectionable elements, but is not the most entertaining by today's standards. To help you, Plugged In has an excellent guide to help you understand the historical context and guide you through biblical truth.
8. The Pursuit of Happyness
Like Jim Braddock, Chris Gardner is fighting to keep his family from breaking up even further. His girlfriend has left him for good to care for their son, and the struggling salesman eventually can't even come up with the rent. He never gives up on his role as provider or father, even when forced into homelessness by their situations. This is a father-son love story, as young Christopher sees his father teach in word and deed about commitment and sacrifice.
The Pursuit of Happyness is rated PG-13. It contains some salty language, and shows Chris' dishonesty in the face of dire circumstances, which are detailed in this Plugged In review.
9. Schindler's List
A shrewd and successful businessman, Oskar Schindler is overseeing work at a Nazi enamelware factory in Krakow, Poland where Jews are being moved to the ghettos. At first, he employs the Jews because they are cheaper, but when he wakes up to the reality of their widespread slaughter and internment in concentration camps, he devotes his life and fortune to rescuing them to work in his factory.
Schindler's List has a strong R rating for violence, language, nudity and, most of all, the horrific subject matter. We mention this film because of its historical importance and high acclaim, knowing it will nevertheless be a film many Christian men will choose not to see.
10. Sergeant York
Alvin York was a ruffian and drunk who finds Christ and turns away from violence. His convictions lead him to seek conscientious objector status in World War I but, assured that he wouldn't have to kill, this sharpshooter from the Tennessee hills agrees to train soldiers. When his unit is deployed to the front lines, he assumes command during a brutal assault and single-handedly defeats and captures a German regiment to save his fellow soldiers and become the most decorated soldier of the war. It is a great study in conviction and courage. To learn more about Sergeant York, the man and the movie, read the Stepping Up post, "Real men die."
Sergeant York was overseen by York himself, who made sure it was free of drinking and language, so it's a movie the whole family can (and should) watch. Here's a Plugged In guide to enhance the experience.
Six other real-man movies you might consider.
Gifted Hands – TV NR. Ben Carson rises above his poverty and educational laziness to become a world-renown brain surgeon.
The King's Speech – R. King George VI overcomes a speech impediment to be a good leader for his nation (PluggedIn review).
October Sky – PG. Homer Hickam sets his eyes above the mediocrity of his West Virginia coalmining town to become a NASA scientist (PluggedIn Review).
The Rookie – G. Retired pitcher, now high school coach and teacher Jimmy Morris, makes good on his dream to reach the major leagues (PluggedIn Review).
Rudy – PG. Undersized Daniel "Rudy" Ruettiger works harder than anyone to achieve his dream of playing football for Notre Dame.
United 93 – R. Todd Beamer, Mark Bingham and fellow passengers sacrifice their lives on September 11, keeping their plane from striking its Washington target (PluggedIn review).
© 2014 by FamilyLife. All rights reserved.
You just finished reading "Unbroken, 10 other real-man movies" by Scott Williams on FamilyLife's Stepping Up blog for men.

What other films about real-life men stepping up to encourage others you would recommend? Please comment.

Bill Bright influenced more people for Christ in his lifetime than anyone. Listen to his end-of-life interviews on FamilyLife Today.

Watch one or more of these movies with your sons or guys in your men's group. Share this post on social media.