When Dennis Rainey wrote the book Stepping Up and when FamilyLife created the 10-week video series, everyone had the idea that it would impact men. But no one had any clue how God would choose to use these resources to impact the very young and guys many would consider the throwaways of society. The men behind bars.
I thought it was phenomenal when my son's Boy Scout troop went through the series as a father-son activity. I was blown away seeing how hungry these young men, even boys, were to hear the message of what it means to be a man. Even at their young age they grasped it; they grasped for it. Unlike many of us grown men, they may be spared the years of struggling and failing in their quest for authentic manhood.
Recently, I saw an even more remarkable story of transformation.
A  group of men behind bars at the Wrightsville Correctional Facility in Arkansas went through the 10-week Stepping Up study. Most of these men didn't have good male role models growing up, if any at all. God met them in a powerful way through the study to draw them to Himself and to help them get a glimpse of who He created them to be. Their testimonies are powerful.
As Dennis Rainey says in the video segment:
"I think men in prison are hungry to become real men. Maybe more so than men in the church, because they recognize how they've failed.
"Men—regardless of whether they're in prison or at the top of the heap in corporate America—need other men calling them up and away from childish ways, which every man can step back into at any time in his life."
Watch this incredible video, and see if God gives you a vision of how to use Stepping Up in creative and impactful ways.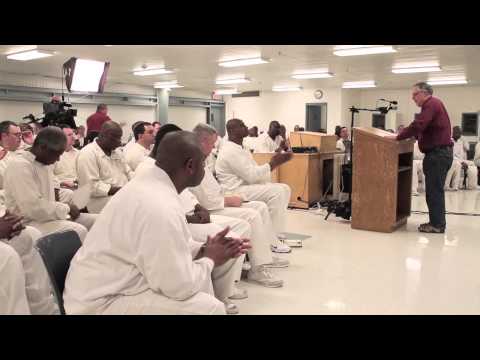 © 2014 by FamilyLife. All rights reserved.
Hopefully, you watched the video, "Stepping Up As a Prison Ministry,"  taken from the Stepping Up website.
Have you done the Stepping Up video series in a creative or unusual setting? Please comment to tell us about it!

More kids and young men today are experiencing "Father Hunger." How can you satisfy your kids' need?

You can host Stepping Up as a prison ministry in your area. Or you can help others get one started.