BOYS WILL BE BOYS
Boyhood is about exploration. A boy has license to wander and roam. But boyhood is also a time when he finds barbed wire at the top of fences and learns that some folks really mean it when they post "No Trespassing" signs. Boys bump into boundaries and experience the consequences for right and wrong choices.
The apostle Paul understood that boys will be boys when he wrote in 1 Corinthians 13:11: "When I was a child, I used to speak like a child, think like a child, reason like a child; when I became a man, I did away with childish things." Or, in my words:
When I was a boy, I was all boy. I used to speak like a boy, think like a boy, reason like a boy. (All of which explains why I behaved like a boy.) But when I began stepping up, I did away with boyhood stuff.
One of the tragedies of our day is that too many boys are growing up without the guidance of a father, or another man, to show them what it looks like to do away with that boyhood stuff. As a result, they often move into adolescence and then adulthood looking like men but still speaking, reasoning, and behaving like boys.
Stepping up to become men
Our society is equally confused about when a boy becomes a man.  Here are some responses to our Man on the Street question, "When does a boy become a man?"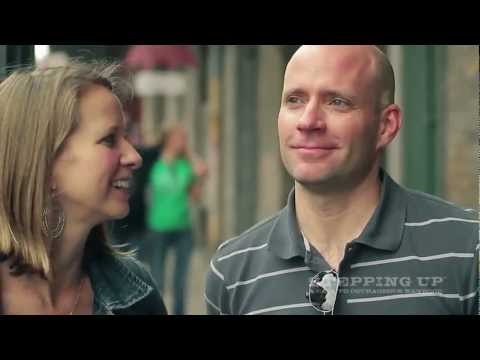 Why is it so hard to go from boyhood to manhood
In a cover story titled "Education: Boys Falling Behind Girls in Many Areas," Newsweek magazine examined the growing achievement gap between boys and girls today. "By almost every benchmark, boys across the nation and in every demographic group are falling behind," wrote Peg Tyre. "In elementary school, boys are two times more likely than girls to be diagnosed with learning disabilities and twice as likely to be placed in special-education classes. High-school boys are losing ground to girls on standardized writing tests." According to the American Council on Education, young men now represent only 43 percent of college undergraduates, with women comprising nearly 60 percent (Jacqueline E. King, Gender Equity in Higher Education: 2006 (Washington, DC: American Council on Education, 2010).
After examining how educators are working to close the gender gap, the article finally focused on what I'd consider is the key issue:
One of the most reliable predictors of whether a boy will succeed or fail in high school rests on a single question: does he have a man in his life to look up to? Too often, the answer is no. High rates of divorce and single motherhood have created a generation of fatherless boys. In every kind of neighborhood, rich or poor, an increasing number of boys — now a startling 40 percent — are being raised without their biological dads (Tyre, The Trouble with Boys). (emphasis added)
Making the problem even larger is the number of boys growing up with fathers who are physically present but emotionally distant and uninvolved.
What to do about it?
One of the biggest needs in our generation is for men to step into the lives of boys to train them, equip them, and cheer them on to grow up as they begin the process of "manning up." And I'm not just talking about fathers getting involved with their sons. I'm also talking about a generation of boys who are growing up with no male figure in their lives — boys who are desperate for a man to show them how to be a man.
To think about:  There is no benefit to beating yourself up because of what has transpired in your life as a father.  Shame is never good.  Conviction that results in positive and fruitful action is what we need.  What really matters is "what do you do with what you know?"  What can you do TODAY to build into your son or another young man who needs a man that cares enough to help him grow up from boyhood to manhood at the right time.  Will you step up and fill that gap?
On February 2, 2012, thousands of churches, ministries, men's groups and community groups of men will be hosting simultaneous Stepping Up™ Super Saturday events.  Will you be one of the groups hosting a great event for the men in your church and community?
Adapted from Stepping Up by Dennis Rainey. FamilyLife Publishing, 2012.