Men are back in vogue.
At least they are today on the 11th anniversary of the September 11 attack.
Fourteen years ago, a lot of everyday guys became instant heroes. They didn't set off that day to be heroes, they just responded with courage in the flash of a moment on a day that was anything but everyday.
Some of those guys, like the first responders in New York City, were trained to do heroic things. They thought of their actions that day as nothing more than just doing their jobs. Other men were military personnel, but not the heroic kind on the front lines of battle. These were guys who had desk jobs, whose heroism was thrust on them when the Pentagon came under siege. Other guys were just businessmen who were flying as part of their job, until their job became confronting the face of evil in the skies over Pennsylvania.
In every instance, each man stepped up by putting aside his fear and personal safety for the well-being of those around him.
Wall Street Journal columnist Peggy Noonan wrote about these men in a column a few days after the 9/11 attacks. It wasn't specific men she was writing about, but the innate character of men that may hide itself in times of safety, but shows itself the most heroic in the face of catastrophe.
You didn't have to be a fireman to be one of the manly men of Sept. 11. Those businessmen on flight 93, which was supposed to hit Washington, the businessmen who didn't live by their hands or their backs but who found out what was happening to their country, said goodbye to the people they loved, snapped the cell phone shut and said, "Let's roll." Those were tough men, the ones who forced that plane down in Pennsylvania. They were tough, brave guys.
It's easy to venerate these guys when you see what they did on September 11, 2001. But would we have felt the same way about them on September 10? No, we probably wouldn't have even noticed them. Even the firefighters.
One segment of the Stepping Up video series features these members of the New York Fire Department. Just looking at these guys on the video and hearing them talk, there doesn't seem to be anything special about them.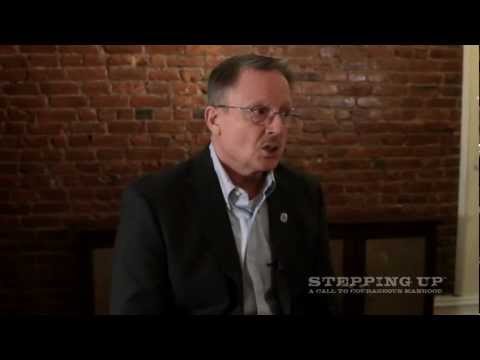 "When we talk about heroes—and that's typically always discussed—I don't think that anyone who is currently working that was down at 9/11 in any capacity views themselves in that light.  The heroes are the ones that didn't actually come home; we were just doing our job."
Truth is, though, there was no difference between the ones who came home and the ones who didn't. Both groups showed courage. Both stepped up. Both were heroes, it's just easier to recognize it in the ones whose heroism took the form of the ultimate sacrifice.
It doesn't take a 9/11 to be a hero or even to do courageous things. It's only the circumstances that bring it out. These firefighters probably showed the same courage on the 10th and 12th as they did on 9/11. And there are other men around the country that we will never know about who showed just as much courage on those days. "Courage is not the absence of fear, but rather the judgment that something else is more important," said Ambrose Redmoon.
So whether your actions earn you the title of hero or whether they're never even noticed at all, do the things that a man does: stand for righteousness, live for others, and keep the big picture in focus. Remember that today's everyday man is often tomorrow's hero.
© 2015 by FamilyLife. All rights reserved.
You just finished reading the post "Men are back, at least for today" on the Stepping Up blog for men.

For Brian and Mel Birdwell, the heroics began after the 9/11 attack on the Pentagon. Listen to the broadcasts.

One of Dennis Rainey's favorite things to ask men is "What is the most courageous thing you've ever done?"

Grab a group of guys to explore together the Stepping Up video series and what makes up courageous manhood.